Wiki Targeted (Entertainment)
Play Sound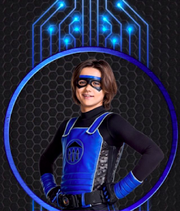 Bose O'Brian, also known as the superhero Brainstorm, is a main character in Danger Force. He is portrayed by Luca Luhan.
Description & Personality
Bose is handsome, confident, happy and dim-witted. He is fully aware that he is not the smartest one in the group and he is totally fine with it. He believes everything and everyone is great. He is like a happy puppy in a 12-year-old's body. Bose just wants to have a good time and luckily he thinks almost anything is fun.
As Brainstorm, he wears a blue and black suit with a logo on his chest with arrows pointing upwards. He also has a logo on his belt resembling a hurricane, tilted. On his face, he wears a black mask with a blue line on top.
Powers
Telekinesis: After the Omega Weapon explosion, Bose gained the ability to lift things and/or people with his mind. It usually require him to concentrate while other times he is able to lift things/people with no difficulty. In Down Goes Santa: Part II, Bose was able to use this power to fly Santa's sleigh making sharp turns and flying through the air to head to every house in the world.
Rogues Gallery
See also: List of villains in the Dangerverse
Trivia
He was first introduced in the Henry Danger episode The Beginning of the End.
He thinks ghosts like soup as revealed in Ray Goes Cray.
He has a stuffed teddy bear named Boo-Boo-Pew-Pew.
In Quaran-kini, he learned German, Italian, and Sign language by watching TV.
In Radioactive Cat, his last name is revealed to be "O'Brian".
Before Mika in the Middle, he and Ray ordered illegal hair products from China to keep their good looks, until Mika snitched on them.
Bose got a job at Nacho Ball in Down Goes Santa: Part I.
In Lil' Dynomite, Ray put Bose in charge of his schedule.
He has his own house.
As of Drive Hard, he is the second underage character to obtain and use a Driver's License, the first being Piper Hart.
Gallery
| | |
| --- | --- |
| | To view the Bose O'Brian (Brainstorm) gallery, click here. |
Videos