"Escape Room"

Season 5, Episode 35

Information
Air Date

February 8, 2020

Prod. Code

536

Writer(s)
Director

Evelyn Belasco

Episode Chronology
Previous
Next
Escape Room is the thirty-fifth episode of the fifth season of Henry Danger. It premiered on February 8, 2020 to an audience of 0.89 million viewers.
Plot
Charlotte is sharpening Captain Man's big scissors, as he would be cutting the ribbon at the grand opening of an escape room. Henry arrives in the Man Cave and transforms into Kid Danger. Captain Man and Kid Danger go up the tube. Piper is about to leave the house to attend the grand opening, as she is president of the Man Fans. Just then, Officer Walnut arrives at the door with her niece, Mika, and her nephew, Miles. She explains that Piper had never finished her community service, so she had to babysit Miles and Mika. Piper invites Miles and Mika to the grand opening. Captain Man and Kid Danger arrive at the escape room. Piper, Miles, and Mika arrive soon after, and a voice tells them to place their weapons and phones in a box. They put them in a box, and the voice tells them to take the box outside. Captain Man does this, and just then, Piper's phone rings, and she runs out to get her phone. The door closes behind her, locking everyone else inside. They soon find a boomsday device, which, according to the voice, was there for revenge. Captain Man's boom-detecting boots begin to flash, indicating the device was real.
The voice reveals himself to be Jack Frittleman, who was getting revenge on Kid Danger and Captain Man for blowing up his factory. He is standing in the escape room in a boom-proof box and tells them they would have to solve his riddles to escape, and if they didn't, he would blow them up. Mika is able to solve his clues, and she ends up at a clock where the time is 2:30. Meanwhile, Schwoz and Charlotte have gotten an alert that Captain Man's boots flashed, meaning he was near a boomsday device and was in danger. Charlotte puts Schwoz in a bearproof suit so they can save them, but they get sidetracked and decide to go to the bathroom, get snacks, and watch Dog Judge: The Musical with Jasper. Miles, Mika, Captain Man, and Kid Danger line up four ducks in a row, and the numbers on their back read 1701. Miles puts the number into the door, and the door opens. However, there is a brick wall behind the door. Jack says he wasn't going to let them leave, and he presses the button to activate the device. However, when he does, a five-minute timer for the device turns on instead.
Captain Man, Kid Danger, Miles, and Mika decide to come up with a plan. At the Man Cave, Charlotte, Schwoz, and Jasper are about to save Captain Man and Kid Danger when Piper shows up with a bucket of fried chicken. She goes to the bathroom, and everyone else decides to go too. Captain Man pulls out a gold wire on the boomsday device with his teeth, and a message shows up that the signal was terminated. Angry, Jack exits the boom-proof box and examines the device. He realizes they only turned off the timer, but the device was still active. However, when Jack turns, he sees that Captain Man, Kid Danger, Miles, and Mika had all gotten into the boom-proof box, and the device explodes right next to Jack. At the Man Cave, Piper, Charlotte, Jasper, and Schwoz finally leave to rescue Captain Man and Kid Danger just as they arrive back at the Man Cave.
Cast
Main Cast
Minor Cast
After-Credit Cast
Maurice Meredith as Hermie
Maximillion Acevedo as Lawn Ranger
Trivia
This is Jack Frittleman's first appearance since Henry's Frittle Problem in Season 4.
This episode introduces Mika and Miles, two main characters of Henry Danger's spin-off series, Danger Force.
Ray apparently doesn't know Charlotte's last name.
Ray thinking Charlotte's last name is "Sweb" is a reference to the book, Charlotte's Web.
This is the eleventh time Ray is Captain Man for the entirety of the episode.
Piper got a new haircut.
Flashbacks from The Trouble With Frittles and Henry's Frittle Problem are shown.
Miles breaks the fourth wall when he says that the Frittle Factory blew up a few Seasons ago.
Songs from the Henry Danger: The Musical are sung, but with altered lyrics for Dog Judge: The Musical.
Piper and Schwoz wore the bear-proof suit that Henry wore in Whistlin' Susie.
Officer Walnut mentions the events of Sister Twister, Part 1 when she dropped Piper of on Stank Street and made her clean up trash.
This is the twelfth episode without any recurring characters if you don't count Officer Walnut and Jack Frittleman.
When Schwoz said the word room, he used his normal voice instead of his character's voice.
When they show the exterior of the Escape Room, you can see a truck with the logo SendEx on it, which is an obvious spoof of FedEx.
Goofs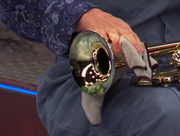 In the reflection of Schwoz's trumpet, you can see the green screens that are used for the TV screens in the Man Cave.
International Premieres
April 14, 2020 (United Kingdom)
August 15, 2020 (Latin America & Brazil)
September 23, 2020 (France)
Gallery
| | |
| --- | --- |
| | To view the Escape Room gallery, click here. |
Video Gallery