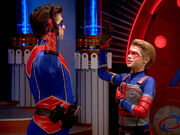 Henry Danger is an American superhero situational comedy created by Dan Schneider and Dana Olsen.
Plot
Henry Danger follows the life of a 13-year-old boy named Henry Hart, who lands a part-time job as Kid Danger, a sidekick in training to super crime fighter Captain Man. Their colorful adventures throw Henry's otherwise ordinary life absurdly out of balance, yet he must keep his new job a secret from his friends and family. However, one of his best friends, Charlotte, was smart enough to know that he was Kid Danger, and since then, also helps Captain Man. They have to hide it to their best friend Jasper and to Henry's little sister Piper.
Opening credits
Season 1-2
Henry: It all just kind of happened.
Captain Man: My dad was an irresponsible scientist.
Henry: I wanted an after-school job.
Captain Man: And by accident, he made me indestructible.
Henry: I went to this crazy store, and met a pretty interesting guy.
Ray: I'm gonna blow your mind.
Captain Man: So now I protect the good citizens of Swellview, who call me...
Henry: And he turned out to be...
Captain Man: You know the name.
Henry: Captain Man!
Captain Man: That's right, Henry. In time, I realized that being a superhero is a lot to handle alone.
Henry: He wanted some help.
Captain Man: I needed a sidekick.
Henry: I, Henry Hart...
Captain Man: Pledge to never ever ever tell anyone...
Henry: ...that I'm Captain Man's secret sidekick.
Captain Man: It is done.
Henry: Now, we blow bubbles.
Captain Man: And fight crime.
Henry: Feels good.
Season 3-5
Starting in Season 3, only Henry talks in the prologue of the opening credits. His voice is also notably deeper than it was two seasons ago, and he looks a bit taller; in Season 5, Henry's hair is noticeably trimmed at the sides.
Henry: It all just kind of happened.
I wanted an after-school job.
But then an indestructible superhero wanted me to be his sidekick.
Now, we blow bubbles and fight crime. (As of Season 3, Episodes 1 - 4)
Feels good (As of Season 3, Episode 5).
Cast
Main Cast
Recurring Cast
Minor Cast
Episodes
Main article: Episode Guide
Crossovers: Henry Danger: Friendgame
Production
Production on Henry Danger began in December 2013, with its pilot episode titled The Danger Begins. An early name for the show was originally going to be called Mayor of Mars before receiving its final name. This can be evidenced in some audition tapes revealing different names for the show's characters.
The series was picked up with an initial production order of 20 episodes on March 13, 2014, later expanding to 26 episodes. On July 26, 2014, the series started airing with a one-hour special as the first episode. Series creator Dan Schneider stated on Twitter that a character from one of his previous series will make a guest appearance on the series.[1] On November 18, 2014, Henry Danger was renewed for a second season.[2] The second season premiered on September 12, 2015. On March 2, 2016, the series was renewed for a third season.[3] The third season premiered on September 17, 2016. The series was renewed for a fourth season on November 16, 2016.[4] The fourth season premiered on October 21, 2017.[5]
On March 19, 2018, Jace indicated in an interview with Extra that the series was to be picked up for a fifth season.[6][7]The fifth season premiered on November 3, 2018.
Trivia
This is the first and only Dan Schneider show with just one male lead.
This is the first Schneider show with a male lead since Drake & Josh, created in 2004, and that got its latest work in 2008.
Unlike previous Schneider shows, Henry Danger was not taped at Nickelodeon on Sunset; instead it was taped at the Burbank Studios and Paramount Studios.

Bella and the Bulldogs recorded at Nick on Sunset to make use of their backlot/parking lot for the show's football scenes. The studio has shut down since.

This is also the first Schneider show in which the lead character has a younger sister since Drake and Josh.
Henry Danger is the first property of its own shared universe, called the Dangerverse. It is followed by its two animated spin-off series, Henry Danger: Motion Comics and The Adventures of Kid Danger, and one live action spin-off series, Danger Force).

Its connection to the live action series has resulted in the two sharing the combined name of Henry Danger Force.

Certain episodes reveal that other Schneider shows like iCarly and Victorious exist in the same universe as Henry Danger.

The same can be said for Sam & Cat, when a small character from their show, Herb, appears in one episode. Goomer (a recurring character) would later appear.

This is the second Nickelodeon show with a theme about superheroes after Jed Spingarn's The Thundermans.

However, this series focuses on one superhero (Henry Hart/Kid Danger) rather than a family of superheroes.

Riele Downs and Sean Ryan Fox are switching their credit order every episode.
Up until Invisible Brad, Kid Danger is shown talking in the opening credits. This is because Invisible Brad is the first episode to air in 2015.
Some people may think that this show is the reason why Sam & Cat, another Schneider show from the same period, ended quickly, probably due to the proximity between the premiering of #GettinWiggy, the last Sam & Cat episode, and The Danger Begins, the first episode of this show but this is not the case. Sam & Cat ended fastly without a second season because of rumors of fights between the two lead actresses, Jennette McCurdy and Ariana Grande. Henry Danger has been picked up by Nickelodeon and started real production in December 2013, several months before the production of #GettinWiggy.

Instead, Henry Danger is a replacement for Gibby, a TV show that was supposed to be a replacement for iCarly and Victorious, alongside Sam & Cat, but wasn't picked up by Nickelodeon. The replacement for Sam & Cat is actually Game Shakers.

This is the first Schneider and maybe Nick show that aired a whole season in production code order instead of airing the episodes in a random order like Drake & Josh, iCarly, Victorious, and others.
A running gag on the show is Piper Hart's Fred Lobster commercial being cut by breaking news everytime (it was shown in its entirety only once, but in Spanish).
Dan Schneider left the show after Season 4.
As of July 27th, 2019, Henry Danger is now the longest live action show on Nickelodeon.

This beats iCarly with both having 5 seasons and over 100 episodes.

Starting with Mr. Nice Guy, Jace Norman is credited as producer.
There is a spin-off series called Danger Force, where both Ray/Captain Man and Schwoz are the main characters.
References
External links