Wiki Targeted (Entertainment)
Play Sound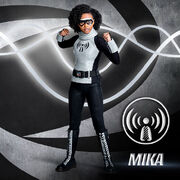 Mika Macklin, also known as the superhero ShoutOut, is a main character in Danger Force. She is portrayed by Dana Heath.
Description & Personality
Mika is fun, optimistic, charismatic and upbeat. She thinks out loud and is relentless with her honesty. She's the team captain, the project manager and the most likely to succeed. She's also the sister of Miles and loves him, but thinks he is an insecure phony.
As ShoutOut, she wears a silver and black suit with a logo on her chest resembling a person screaming. She also has a logo on her belt resembling a hurricane, tilted. On her face, she wears a black mask with a silver line on top.
Powers
Mighty Shout: After the Omega Weapon exploded, Mika can generate a sonic scream that is powerful enough to break through concrete. Unlike the others, it showed up late. This power is activated when she screams extremely loud and perfectly aims it at a target. Once she starts, she can't stop until the all energy is released. Her powers can also kill living things, as in Twin it to Win it, her shout kills a pigeon outside the school.
Weaknesses
Muting: In several episodes it shown if Mika's mouths is shut (i.e.) someone tapes her mouth or somehow get something lodge in, Mika is unable to produce her Mighty Shout. This was shown in the first appearance of Take-Out and during a battle with Krampus.
Rogues Gallery
See also: List of villains in the Dangerverse
Trivia
Mika was introduced in the Henry Danger episode, "Escape Room", along with her brother, Miles.
Mika's superhero name was originally going to be Syren.
She can speak French.
As of Mika in the Middle, Mika is a snitcher as she revealed all secrets.
She was born in Rivalton.
She is amazing at pranks, and can sense when someone is about to prank her or someone else.
Mika can also generate her mighty shout when she yawns (Ray Goes Cray) or burps. The longest she generated it was with her showdown with Lil Dynomite.
It is revealed in Vidja Games that Mika is extremely competitive and whenever Miles says fish sticks, she says it as well.
Mika is the older twin.
Gallery
| | |
| --- | --- |
| | To view the Mika Macklin (ShoutOut) gallery, click here. |
Videos