Season 5

Production
Episodes

41[1]

Premiere Episode
Premiere Date

November 3, 2018

Finale Episode
Finale Date

March 21, 2020

Chronology
Previous
Next
Nickelodeon renewed Henry Danger for a fifth season on July 27, 2018. However, Jace Norman announced the renewal back on March 19, 2018 before Nickelodeon's announcement.[2] The season premiered on November 3, 2018 and ended on March 21, 2020.
Cast
Main Cast
Recurring Cast
Minor Cast
Special Guest Cast
Episodes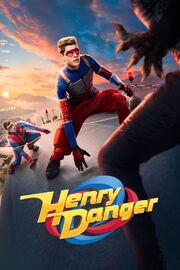 Trivia
Renewal
On March 19, 2018, in an interview with Extra, Jace Norman stated that Henry Danger got renewed for Season 5.[3]

He also said that Season 5 will most likely be the final season.

During the weekend of May 19, 2018, Cooper Barnes and Jace Norman confirmed season 5 at Comic Con Revolution.

Cooper also stated in a Geekscape podcast that he has spoken to a new show runner, indicating a replacement show runner has been chosen.

On July 27, 2018 Nickelodeon officially renewed Henry Danger for a 20 episode fifth season.

On December 3, 2018 Nickelodeon renewed the series with an extra 10 episodes bringing the season to a total of 30 episodes.

This also brings the series to a total of 117 episodes making it the longest running live-action show after iCarly on Nickelodeon.

On April 3, 2019, Nickelodeon ordered 10 more episodes bringing the season to 40 episodes and increasing the series episode count to 127. [1]
During the Fall of 2019, Nickelodeon ordered one more episode bringing the season to 41 episodes and increasing the series episode count to 128.
Production
Season 5 started production on July 5, 2018 and wrapped on November 22, 2019.

On May 31, 2018, director Mike Caron posted that production for season 5 would start soon.
On a Live Stream on Instagram Jace said they would probably start a month from June 14, 2018.
On June 28, 2018, Mike Caron posted the first script for season 5.

Christopher J. Nowak is announced as the new executive producer replacing Dan Schneider.
On July 27, 2018 Nickelodeon announced Michael D. Cohen as Schwoz Schwartz is officially promoted to series regular.
For the first 30 episodes, the shows production schedule was changed from Monday through Friday to Thursday through Wednesday.

During the production of the last 11 episodes, production went back to the Monday through Friday Schedule.

Starting with the episode Mr. Nice Guy, Jace Norman is credited as producer.
Episodes Count
Nickelodeon announced that this season will consist of 20 episodes, taking the series to a total of 107 episodes; however, the order was increased to 30 episodes, once again increased to 40 episodes and once again to 41 episodes.

This extension would take the show to 128 episodes.
Series Wrap
On December 4th, 2018, Jace Norman has revealed in a interview with ExtraTV.com that season five will probably be the final season of the hit Nickelodeon show, with the fifth season "wrapping the whole thing up".
During several interviews while Jace was promoting his new film Bixler High Private Eye, it is up to Nickelodeon to pick up for a 6th season, but thinks it's very unlikely.

In the J-14 Magazine he states "Doing a series finale…I've never experienced that yet. I don't want to say it out loud but…I kind of want somebody to die!" he also added "That would be so cool though. It would be like a nice, tasteful way of making them die and then everyone would be sad."
In an interview with celebsecrets.com, he was asked what he would want to see if the series would end, he replied "I'd love if Henry and his friends "save the world" and become superheroes like Captain Man. Charlotte and Jasper are both huge fans of what Captain Man does, and I think it would be super cool for all of us to be a superhero just like him. I'm imagining all of the scenarios we would find ourselves in, it would be awesome.".

On August 31, 2019, Jace Norman was quickly interviewed by Hollywood To You about the shows finale season, in which he confirmed that season 5 will indeed be the finale season.
On October 14, 2019 Jace Norman posted a script on Instagram indicating the end of the show.
On November 11, 2019 Jeffrey Nicholas Brown shared on Instagram it was the casts last table read.

During the next two weeks the cast and crew confirmed that the show was ending. Nickelodeon confirmed the ending in December 2019.

On November 22, 2019 the cast wrapped production of the series.
Airing
This is also Dan Schneider's longest running series after iCarly, meaning both shows have more than 100 episodes each and 5 seasons each.

Nickelodeon Split iCarly's fifth, making a sixth and seventh season as well as it's second season, but these seasons each have Season 5 production codes.

This is mainly due to Wikipedia going by streaming services as they broke up the seasons when other sites including the iCarly wiki mention the show only has five seasons; however Nickelodeon mentioned new seasons in promos, making Wikipedia split up the seasons several times and leaving fans confused.

Two season 5 episodes were moved over to Season 4 for unknown reasons making Season 4 and 5 sharing episodes from each season.
Two episodes from Season 4 moved into this season.
Season Facts
This season of Henry Danger is unique given each episode has an overlaying story arc connecting one another.
This season received a Halloween special this season making it the shows second Halloween episode.

Although produced during Season 5 it was moved to Season 4.

There is also a Christmas episode this season.
The way the scenes transition in the episodes is more cinematic than it was in Seasons 1-4.
This is the longest season of Henry Danger with 41 episodes.
This season has a 100th episode special.
Henry Danger and Knight Squad had a crossover.
The image in the infobox used to promote this season resembles the poster for the 2019 film Glass, a film about super heroes in a non-fictional setting.
Piper finally finds out Henry is Kid Danger and Ray is Captain Man in Sister Twister, Part 1.
Jake and Kris finds out Henry is Kid Danger in The Beginning of the End and Ray is Captain Man in Captain Drex.
Videos
References